Virtual Reality at the Dentist?!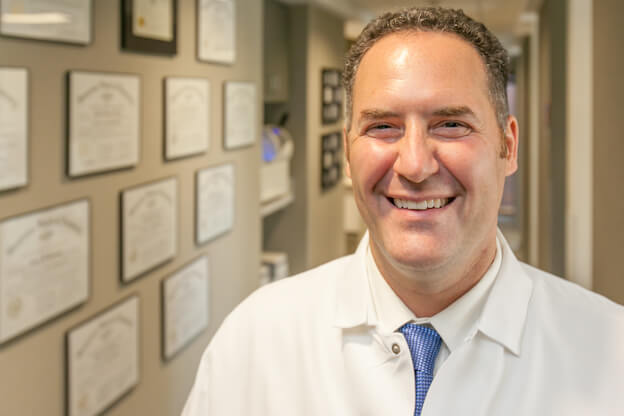 Imagine relaxing on the beach during a sunny day and enjoying the cool ocean breeze pass over you…while somewhere way off in the distance you can faintly remember that you are also having a cavity filled.
It's possible–with virtual reality!
Pioneering Virtual Reality Dentistry
At Lake Minnetonka Dental, Dr. Bryan Laskin is one of the first dentists in the United States to use Virtual Reality (VR) in dentistry. Why, you ask?
Dr. Laskin discovered through his research that the benefits of VR in health care were proven in several ways to effectively treat anxiety and discomfort during medical treatment. By finding a needle-free, medication-free solution to helping patients put dental anxiety at ease, he hopes to make dental care possible again for those who need it, where every trip to the dentist can be a positive experience.
What Is Virtual Reality?
Virtual Reality is a computer generated environment that presents a 3D landscape for the user to explore and interact with. You are completely immersed in the environment and can perform actions as well as manipulate objects. Turn your head or move your eyes, and your landscape shifts with you!
How Does Virtual Reality Help at the Dentist Office?
Distraction from discomfort, as well as distraction from a group of hygienists and dentists hovering over your chair– is hugely effective in reducing any perception of discomfort or pain. Becoming completely immersed in a new, tranquil environment allows the patient to 'escape' his or her current reality by focusing on an environment that is more ideal. Research has proven VR to be quite effective in managing pain!
A Natural Cure for Dental Anxiety?
Virtual Reality has had a dramatic effect on the way some patients view their next visit to the dentist. When you can choose your new surroundings, dental care becomes an adventure!
While we offer sedation dentistry as a way to help patients with dental anxiety receive necessary care, VR is also an excellent option. The benefits of feeling as relaxed as possible while receiving the dental care you need can have both short and long term benefits on your overall health and satisfaction.
"Virtually" Free Dental Care!
At Lake Minnetonka Dental, providing Virtual Reality is free and safe for all patients! There's no added cost to you to experience the wonder that is Virtual Reality. Simply enjoy an experience so relaxing that you leave our office smiling, and feel motivated to come back again for your next six month checkup!
A Future of Health for All Patients
When we can provide natural and effective ways to care for patients who may have otherwise avoided the dentist, the result benefits our entire community. If you would like to hear more about Virtual Reality and how it can ease you into a relaxing appointment, call us at (952) 388-0287. We're happy to welcome new patients in Wayzata, Plymouth, Minnetonka and nearby.
Family Dentistry in Wayzata
Whether you are looking for a restorative, cosmetic, or emergency dentistry, we will create a supportive and calm atmosphere for you as your family dentist. Our doctors at Lake Minnetonka Dental are happy to offer you and your family gentle dental care and will continue to strive for ways to bring innovative, pain-free dentistry to you and your whole family.