Oral Cancer Information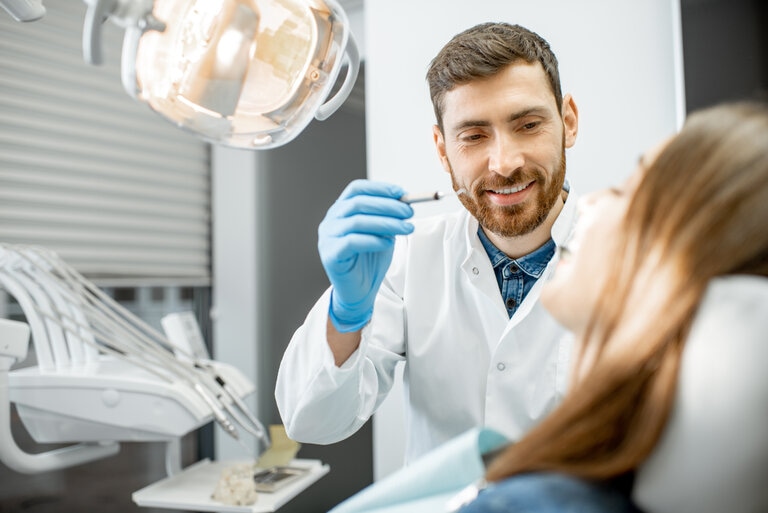 Mouth Cancer Action Month is held in November every year. The month long event hopes to highlight how deadly oral cancer is per the number of cases diagnosed. It kills more people than cervical or breast cancer, even though these cancers are more widely known. Early detection is critical. If more people learn about the early signs and get regular screenings, effective treatment can begin. When caught early, oral cancer treatment is easier and more likely to save a life. The campaign also aims to inform people what to look for at home in monthly self exams. so they can visit their dentist in they notice any changes.
Show your support by having a checkup with an oral cancer screening by making an appointment with a dentist in Wayzata today!
What Signs of Oral Cancer Should I Look For?
The following are signs and symptoms of oral cancer, but other medical conditions may also be responsible for them as well.
A sore in the mouth that will not heal in several weeks
Red or white patches in the oral cavity
Lumps in the mouth, throat or neck
Trouble swallowing
Persistent sore throat
Voice changes
Persistent earache in both ears
Changes in the way dentures fit
If you notice any of these signs, don't wait for your next dental checkup. Call our dentist in Wayzata today to schedule your appointment.
What Causes Mouth Cancer?
Smoking or using smokeless tobacco is the major cause of oral cancer. Consuming alcohol with tobacco use makes it worse. About 90% of all oral cancers and attributed to tobacco use or alcohol and tobacco use.
Excessive alcohol use, which can include up to 21 drinks per week, is also a risk factor. Alcohol acts as an irritant in your mouth. When combined with tobacco. It allows cancer-causing agents to enter cells easily. Studies show up to 30% of people with oral cancer are heavy drinkers.
The human papilloma viruses (HPV) is a risk factor for oral cancer, especially oropharyngeal (upper throat) cancer. It is one of the few types of oral cancer that shows up in younger individuals. Fortunately. it also responds well to treatment.
Excessive un exposure can increase your risk of lip cancer unless you wear a lip balm with sunscreen. There is a genetic factor as well. If a close family member had oral cancer, it increases your risk. Having a weakened immune system can also increase your risk. Some newer studies suggest drinking very hot beverages increase a person's risk of developing mouth cancer by damaging cells in the mouth.
What is an Oral Cancer Diagnosis?
Oral cancer can spread quickly, so early detection is essential. Screenings from your dentist can detect early signs of cancer. Since your dentist is already examining your mouth, a screening is part of a regular dental checkup. Dental hygienists also have training in spotting the signs of oral cancer and pass on what they notice to the dentist.
Dentists don't diagnose oral cancer on the basis of what they see. Instead, they can send a biopsy to a lab for a diagnosis or refer you to a specialist for another diagnostic test.
How is Oral Cancer Treated?
If you are diagnosed with oral cancer, you'll discuss your treatment options with a multidisciplinary of oncologists, ear, nose and throat doctors, and more. Your specific treatment plan will be determined by the stage the cancer in, if it has spread, your overall health and age. You also have the choice of treatments and will be given information so you can make an informed choice about the risks and benefits.
Oral cancer is divided inti stages with Roman numerals I through IV. The lowest sage , I. shows the cancer has not spread, so it is easier to treat. Higher stages mean the cancer has spread. The stage is instrumental in determining your treatment options.
In most cases, you'll have to have any dental work you need completed first. Treatment options may include surgery, medication to target cancer cells and radiation and chemotherapy. You may also need reconstructive surgery and rehabilitation afterward.
Quitting tobacco use will also help your oral cancer treatment. Any treatment, especially surgery, is more effective if you quit all tobacco use. It also helps prevent the oral cancer from reoccurring.
Can I Prevent Oral Cancer?
Some people develop oral cancer with no known risk factors, so you can't guarantee you'll never get it. What you can do is to eliminate every risk factor you can, such as stopping all tobacco use. This alone will greatly lower your risk. If you quit using tobacco, in three and a half years, you will cut your risk of developing oral cancer by 50%.
One in three cases of mouth cancer are linked to heavy drinking. If you have more than four drinks a day, you are five times more likely to get oral cancer. Mixing tobacco use and heavy drinking dramatically increases your odds.
first line of defense is to get regular dental checkups. Please call our dentist in Wayzata to schedule your exam with a screening today to keep your mouth healthy.